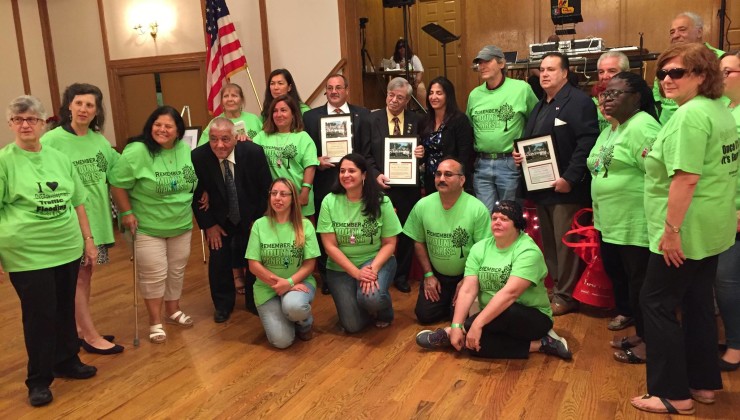 President's Message – Jack Bolembach
I am proud to honor four citizens who have gone above and beyond what ordinary citizens do for the betterment of their community.
We all want to provide a safe and secure community with a quality of life second to none. These four people have on numerous occasions stepped up to the plate to hit home runs working very hard to ensure we have a healthy environment for our family and friends.
My personal experience with all four honorees occurred nearly three and a half years ago when our grassroots movement rose up with the goal to protect and preserve an extremely rare 15 acre natural landscape after it was announced in the newspaper that the Jesuits had entered into a contract with a despicable builder known as the Savo Brothers.
Mount Manresa was the last natural Open Green Space not protected between Fort Wadsworth and Sailor Snug Harbor. This secret sale, endorsed by former Borough President Molinaro, guaranteed the destruction of the pristine natural landscape, as it was deliberately not rezoned and left R3-2 —zoned to perfectly benefit the builders.
The community recognized immediately the urgent need to protect the historical site, 20,000 year old glacial hillside, beautiful valley and hundreds of extremely rare Old Growth trees dating back to before the Revolutionary War and one Black Tupelo that was slightly over 400 years old—one of the oldest living trees in NYC. Mount Manresa was recognized by the NYS Parks and Recreation as eligible for recognition on the prestigious National Register of Historic Places. Despite the history and rare natural treasure at risk of being decimated, no help came from Molinaro who we discovered later to be working with the Savo Brothers.
John Guzzo of Community Board 1 and the Rosebank / Fort Wadsworth Community Area Committee, and a NYC Police Department retiree made every
effort to do all he could to support the Committee to Save Mount Manresa in saving this natural landscape and sacred ground. John has been involved for many years improving the life of community residents in all pertinent matters.
Mike DeCataldo, a former Vietnam Veteran and devoted member of the Rosebank community provided valuable advice and speaking with elected officials and Community Board 1 working hard to save this vulnerable land. Mike has also worked along with John to improve the lives of local residents.
Larry Liedy, owner of the oldest Tavern on Staten Island and a strong community activist involved in a multitude of great causes was a tremendous asset to continue our fight against the builder.  Larry is a great and generous person which every community wishes they had because he acts for the benefit of all citizens and helps those in need. His support was very valuable.
Joe Bilotti called me in May of 2013 because he was involved with trying to save Mount Manresa especially the beautiful small 90 years old chapel where Joe held is weekly Rosary meetings. Joe tried desperately, as many did, once the Jesuits announced the property was up for sale in June 2012, to find out what the future fate of the beautiful rare landscape would become.
Director Fred Herron told all of us not to worry… nothing will change and they would not sell to anyone who would alter the landscape. A school would probably be on the site. We were all lied to over eight months. Joe was born in Rosebank and never gave up his love for the neighborhood and his friends. He has unselfishly taken care of many people, including several nuns he befriended who receive very small monthly pensions. Joe is wealthy being blessed with a large family who love him dearly. His fabulous personality and his friendship with many elected officials greatly helped the cause to Save Mount Manresa.  At our first rally Joes friend, former Vietnam Veteran and City Council Member, Jay O Donavan attended and joined our committee with Steve LoBaido, who with Jay's help, successfully saved Chapin Woods.
Many people and elected officials like Councilwoman Rose, Senator Savino, Borough President Oddo, Councilman Matteo and Assemblywoman Maliotakis were involved in this noble cause but today these four honorees deserve our praise and gratitude. Sincerely, Jack Bolembach, President of Friends of Mount Manresa